Podcast

PODCAST, EPISODE 8: CHANGING THE GAME WITH ALI KRIEGER AND ASHLYN HARRIS
3 min
Two-time World Cup champions Ali Krieger and Ashlyn Harris open up about training in lockdown, being motivated by motherhood, and the importance of visibility.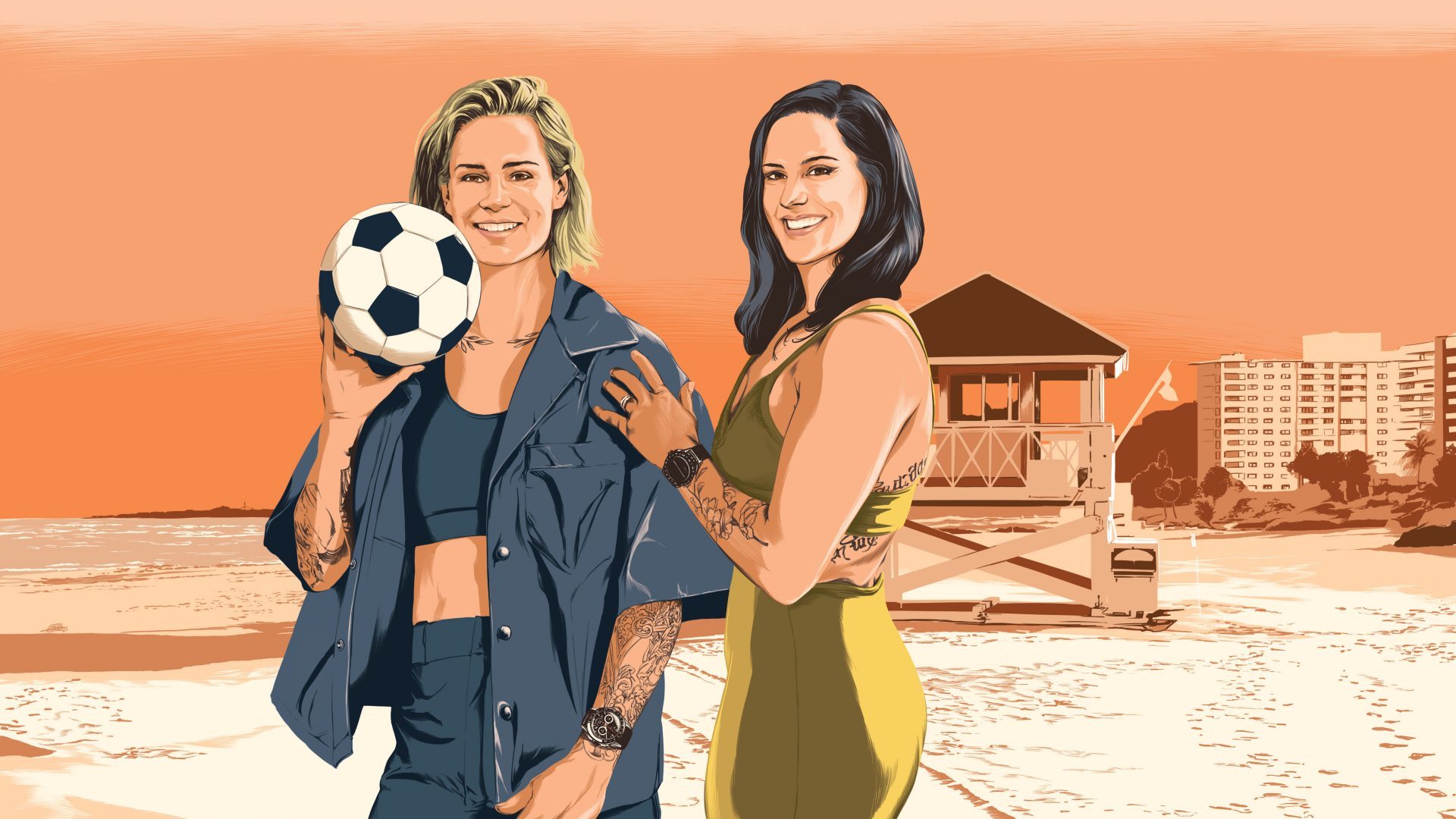 The Edge is a series of conversations with extraordinary people operating at the edge of possibility. It's about the thin line between taking part and tipping into victory; it's about what gives us our edge, and what we can do to go beyond it.
Our guests this time are Ali Krieger and Ashlyn Harris, the two-time World Cup champions who now play for Orlando Pride in the U.S National Women's League.
In the full episode the soccer legends and LGBT+ icons talk to our host Teo Van Den Broeke, Style Director at British GQ, about where they are now, and what's on the horizon. The pair had a stellar 2019 – after becoming World Cup champions for the second time in July, the pair married in Miami that December, with the World Cup's MVP Megan Rapinoe serving as maid of honour. Since then, of course, the world has changed, and so has theirs – earlier this year they proudly introduced fans to their daughter, Sloane. In this candid discussion they talk about having to hit pause in the pandemic, the pleasures and pitfalls of social media, and their dedication to being positive role models for the LGBT+ community.
Listen to the full conversation by searching for 'The Edge TAG Heuer' wherever you get your podcasts:
And also on:
Our aim? To be the monthly source of the fuel you need to leave your limits in the dust.
ATTENTION: ONLY HAVE A MINUTE?
Here are a few snippets to put you on the starting line and get the engines revving. Jump right in! But don't forget to subscribe to our podcast so you can listen to the full, unfiltered episode later.
CHANGING THE NARRATIVE
[Ashlyn] 'With [our ability to play] being taken away, it was a good moment to reflect on who we are and why we do what we do. I've won everything there is to win, but I don't think that's what keeps me hungry. Changing the game and changing the narrative happens off the field, too, when we're fighting for the things that matter to us, whether that's equal pay, or LGBTQ+ rights. I think that's the biggest driving force behind what we do.'
THE WORK IS NEVER DONE
[Ali] 'The work for us is never done. Everyone should want to better themselves and their community every single day, and have the tough conversations that help us all live in a safer, more accepting, exciting, enjoyable world. That's what we're committed to. We are tired a lot of the time, but the work is worth it. It's about changing lives, and supporting communities, whether that be the black community, the LGBTQ+ community, or the soccer community.'
PUT THE PHONE DOWN
[Ashlyn] 'Part of who we are is our brand and a lot of our life is about visibility through social media, but I do feel like it can be a really, really dark place, and sometimes I have to put the phone down and stop living through this false world. We have a lot of conversations about how to have a healthy approach to it. We are very open with our life on social media because connecting with people and showing vulnerability is an important aspect of who we are, but we also keep it at arm's length'.
NO LOOKING BACK
[Ashlyn] 'We promised each other that once we [came out as a couple] there was no looking back, and that visibility was going to be the key component of everything we did. Because when I grew up, I didn't see two women on billboards. I didn't see two women on the front cover of magazines. We want kids to be able to say 'oh, wow, that looks like my family, and it's okay that my family looks like that. I shouldn't be ashamed of it'.
HAPPY ENDINGS
[Ali] 'It's so important for brands to celebrate the differences that make people special and unique. When you walk into a TAG Heuer store now, you can see us together in photos. Making this happen has been a big motivating factor for us. Let's open a magazine and see two beautiful men, or two beautiful women – whatever the case may be. We get happy endings, too. Let's celebrate that.'