Podcast

Podcast, Season 2, Episode 6: The moments that transformed the lives of two friends, André Lotterer and Jean-Éric Vergne
Formula E drivers and best friends, André Lotterer and Jean-Éric Vergne, relive the moments that shaped them.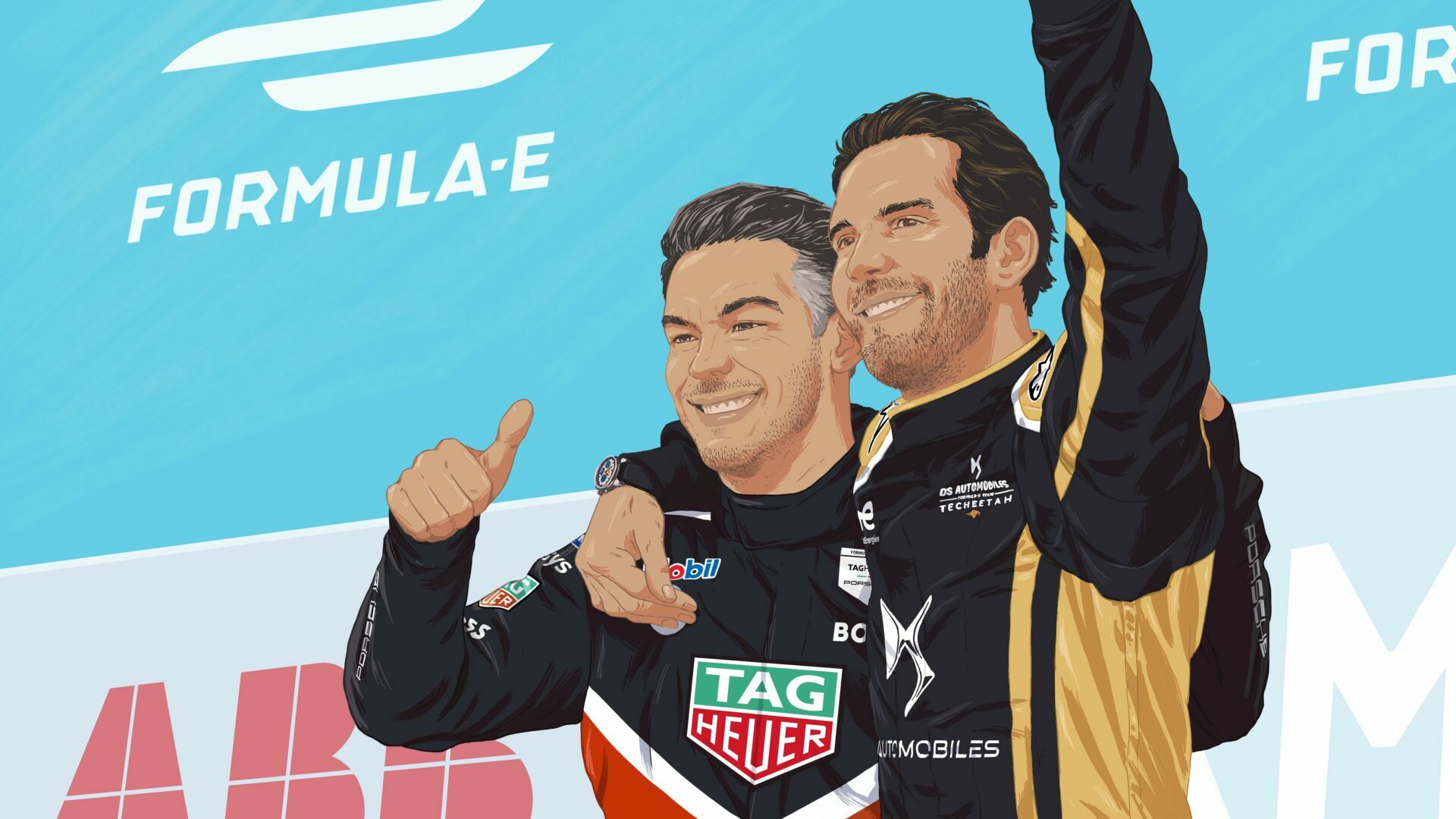 There are moments when time stands still. Moments where you find yourself on the verge of greatness. Moments that stand the test of time. The Edge is a series of conversations where extraordinary people tell intimate stories of one moment that changed everything for them. A world record, a world championship, an epiphany, a life-changing decision. They relive their moments, minute by minute. How they overcame pressure, fear, pain and pushed themselves to the limit. To The Edge. 
Our guests for this very special episode are Formula E drivers and best friends: André Lotterer, driver for the TAG Heuer Porsche team, and Jean-Éric Vergne, driver for DS Techeetah. Their friendship is unique, refreshing and so legendary, they've even got a name for it: Jeandre. You'll hear the two friends talk about the moments that shaped them, their shared passions and how their camaraderie changed their attitudes towards racing. Presented by your host Teo Van Den Broeke, we bring you another entertaining and insightful episode of The Edge.
Listen to the full conversation by searching for 'The Edge TAG Heuer' wherever you get your podcasts:
Our aim? To be the monthly source of the fuel you need to leave your limits in the dust.
Attention: Only have a minute?
Here are a few snippets to put you on the starting line and get the adrenaline pumping. But don't forget to subscribe to our Podcast so you can listen to the full, unfiltered episode later. The Edge is a series of conversations with extraordinary people operating at the edge of possibility. It's about the thin line between taking part and tipping into victory; it's about what gives us our edge and what we can do to go beyond it.
A friendship that changed their lives
André Lotterer: Season four was really a lot of fun. It was tough for me to join at the beginning. I had to learn a lot and JEV helped me a lot with the team. I think I had the best people around me, and I'm still grateful for that today. We went around the world, we traveled together and just enjoyed racing. We were a small group, but pushing a lot and enjoying what we were doing. And switching very quickly from fun to being very professional. So these are the moments that change your life, that you remember…
Jean-Éric Vergne: And so are you saying I changed your life? 
André Lotterer: You did!
Changing the teammate dynamic
Jean-Éric Vergne: From the age of ten, you learn very quickly that your greatest enemy is your teammate because he's technically the only guy who has the same car as you. So the first point of comparison is always your teammates. Therefore, you learn very quickly that you need to beat your teammates. And there are a lot of things, mind games, secrets in the team. You're trying to politically steer the team towards you and make them love you more than your teammates. And I've known that for all my life, especially in Formula 1. And I think that was what was different with André.
André Lotterer & Jean-Eric Vergne on the podium at the 2022 Mexico City E-Prix
What makes this friendship so different
Jean-Éric Vergne: I guess because we are different ages, and I saw such a nice guy, without this mentality. And to me this was refreshing. I saw a new part of motorsport that I've never seen before. That you could actually be friends with a teammate. And that's something so, so, so rare. 
André Lotterer: Normally, you get these kinds of relationships only if you're friends and you're sharing a car in endurance [racing]. But not really when you're racing against each other. So that is quite unique and I don't think you can find that quite often in your career.
For the good of the team
Jean-Éric Vergne: He [André] said that I helped him in some way, but I think he also helped me in a big way. To work together and to do that for the good of the team. And I think the relationship we had inside the team was extremely healthy. Of course, he wanted to beat me. Of course, I wanted to beat him. But honestly, when he was on the podium, I was genuinely happy for him. And that was for the first time in my life. 
André Lotterer: It was really nice and I think good for the team that they don't have to worry about that and that we were sharing all the information for a genuine, honest good. Whether it was for him or for me. And especially in a championship like Formula E, where you have very little track time, we were not able to test on the track and any little bit of information or anything that we could figure out, it was better to share it and not keep it from each other. And I think teams benefit from that. If they have two teammates who work really well together, because it's a positive spiral. If you try to beat each other and it's not healthy, then the whole team suffers from it.
Putting your ego aside
André Lotterer: I guess the thing is, it's only your ego that's in the way at that moment. And that's what I managed to establish throughout my career. Maybe [it was] the combination of racing in Japan and having teammates that were Japanese. I was just welcomed there and then in endurance racing. And because at the end of the day, I mean, there might be a bigger thing than just beating your teammates, you know?
Great friendships, better focus
Jean-Éric Vergne: He allowed me to be better as a driver because I was, for once, not focusing on things like, "How can I destroy my teammate?" I was just focusing on how I can do a better job myself without thinking of that.
A shared love for watches
Jean-Éric Vergne: I love watches. I don't buy cars, so I can buy more watches!
André Lotterer: My first watch was a TAG Heuer. I really annoyed my parents. I mean, my poor parents, they were on the limit with karting and everything. But it was my 18th birthday and they wanted to do something nice and I got a TAG Heuer Link chronograph. I was a big Ayrton Senna fan, so that inspired me from the beginning. I turned 18 in 2000. At that time the Link was so iconic. I had the silver one with the black dial. But Senna wore the brown leather strap with the gold and the white face. So that was the nineties style. Pretty cool!