Podcast

Podcast, Season 2, Episode 3: The moment Max Verstappen became the Formula One world champion
2021 Formula One world champion Max Verstappen relives the moment he crossed the line to win the title.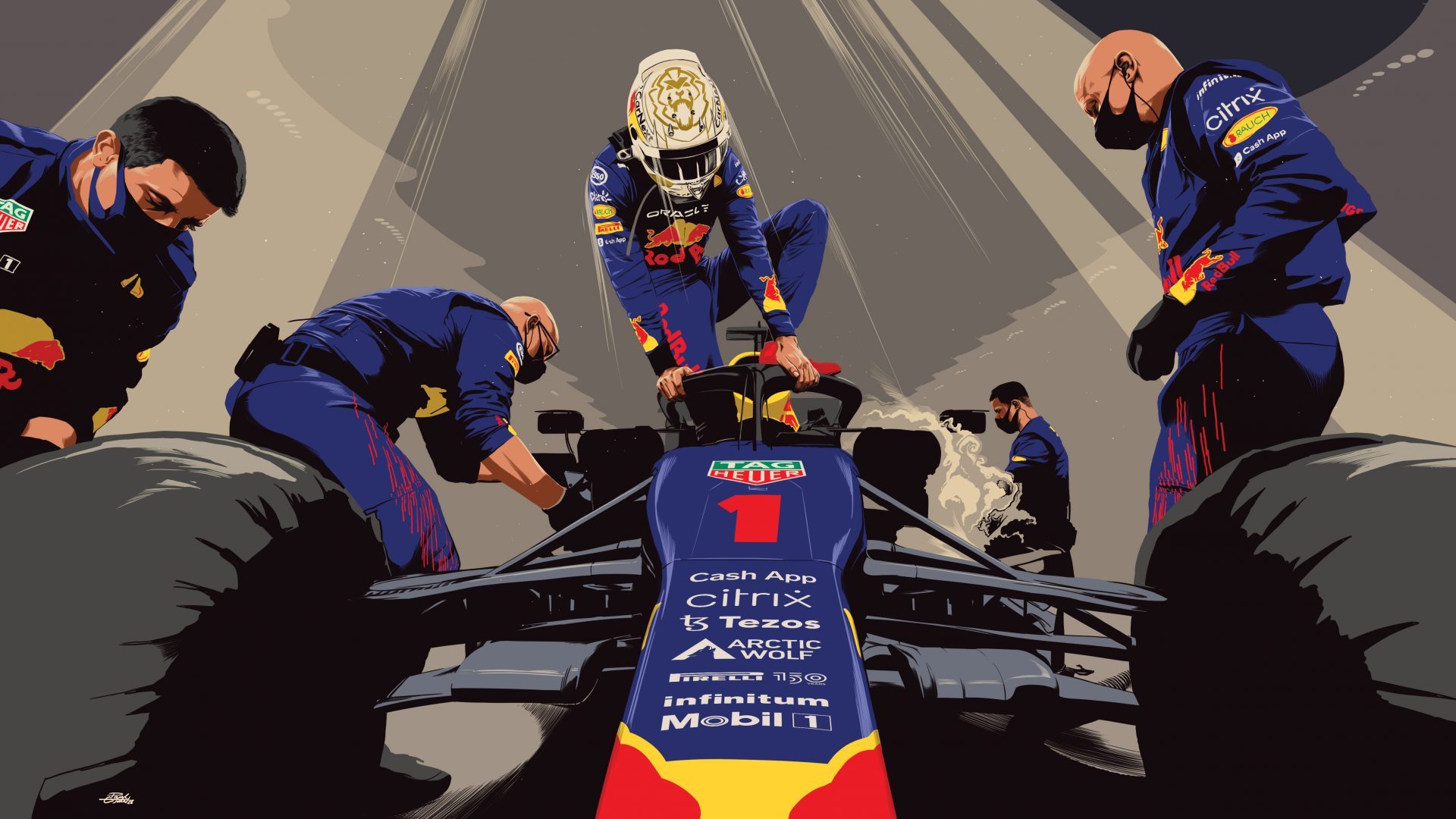 There are moments when time stands still. Moments where you find yourself on the verge of greatness. Moments that stand the test of time. The Edge is a series of conversations where extraordinary people tell intimate stories of one moment that changed everything for them. A world record, a world championship, an epiphany, a life-changing decision. They relive their moments, minute by minute. How they overcame pressure, fear, pain and pushed themselves to the limit. To The Edge.
Our guest is none other than Max Verstappen, the reigning Formula One world champion. The flying Dutchman, who drives for the Red Bull Racing team, takes us back to that dramatic final race in Abu Dhabi. And the moment he crossed the line to seize the title aged just 24.
Presented by your host Teo Van Den Broeke, Style Director of British GQ, you'll find out what was going through Max's mind during the final seconds of an epic season. Listen to the moment that made the 2021 Formula One championship one of the most memorable title races ever.
Listen to the full conversation by searching for 'The Edge TAG Heuer' wherever you get your podcasts:
Our aim? To be the monthly source of the fuel you need to leave your limits in the dust.
Attention: Only have a minute?
Here are a few snippets to put you on the starting line and get the adrenaline pumping. But don't forget to subscribe to our Podcast so you can listen to the full, unfiltered episode later. The Edge is a series of conversations with extraordinary people operating at the edge of possibility. It's about the thin line between taking part and tipping into victory; it's about what gives us our edge and what we can do to go beyond it.
It all came down to that final race
We had a really good season up until then, but [we were] also sometimes quite unlucky. So we lost quite a lot of points. It all came down to that final race. So naturally there were more nerves than in other races.
The only element you can influence is yourself
I never really look at other people or drivers. You have to just concentrate on yourself because that's the only thing you can influence anyway.
Racing isn't complicated
It's not that complicated. I mean, you have a steering wheel, a brake pedal and the throttle. I think over the years, you know what to do. So I don't really think about too many things. I just jump in, and for me, it's just another race. But of course, with a bit more pressure…because we're fighting for a world championship.
From no hope to new hope
It looked like we were losing the championship. And then of course, the crash happened. We took that as an opportunity to put new tires on the car. You can make a call to pit or not, for new tires, and we went for it. That does give you an opportunity as long as they restart the race. They released the cars just for one single lap to race. And I knew it was on, we had a chance again to fight for the title. So then it's all about getting yourself in the right position in the restart and trying to be as close as you can be…to have to go.
And I got in front
I did have the fresher tires, so I was just very excited. And of course, they released us and we had that one lap fight. And I got in front. That's what I wanted. Because as soon as I went in front, it was up to me to try and defend. And that's way better than having to try and do a dive somewhere.
You know it in your head
I think that particular moment where I started to realize it was happening was after that final defense into that first left hand corner. Because after that sector, you cannot pass. So it was all up to me from there, to not make a mistake and just drive it to the line. So yeah, you know it in your head it's happening. But you still need to be focused for the last sector or two, to not make a mistake and get too excited.
An unforgettable lap
You know, Christian [Horner] saying these words on the radio, I think by that time my eardrums were already blowing up from people screaming on the radio…with all the excitement. And you dream of, first of all, trying to get to Formula One and be on a podium or win a race. And then, once you have completed these things, you want to fight for a title. And then hearing that on the radio was yeah…it was very special. But at the time, there were so many emotions. Now when you look back at it, you can probably appreciate it even more. It was just insane and I was crying in my helmet during the end lap. Just from knowing that, everything you've worked for up until then…you've achieved your life goal in racing. That whole lap was something I will never forget.
A moment to let it all go
I think at the time, I had so many emotions running through me. I was thinking about my go karting times all the way to Formula One, when I jumped out of the car. And I had that little moment to myself. I needed that, before I would see anyone else. I just needed to have a few seconds for myself to just let it all go. And actually realize what just happened. The whole season was so stressful as well, because you needed to be fully on it. You needed to be 100%. If you made a tiny mistake, I knew that the others would take advantage of it.
Mistakes make you better
If I would have to give my younger self any advice, I wouldn't. I would just do exactly what I have done, because you need to make mistakes to become a better person. If you keep preventing, say, young Max, from making mistakes, he's not learning because you do need to make mistakes to actually learn. People can tell you a hundred times, "Do not do this, do not do that", but you will make mistakes and it's good to make them because that hurts, you know, that really hits you. And I think these particular moments are good for your career and sometimes, they will drive you to be your better self.