Podcast

PODCAST, EPISODE 9: Deep-thinking Freediver Arthur Guérin-Boëri
4 min
We speak to the record-breaking Frenchman about sports therapy, the eternal quest for well-being, and being inspired by Le Grand Bleu.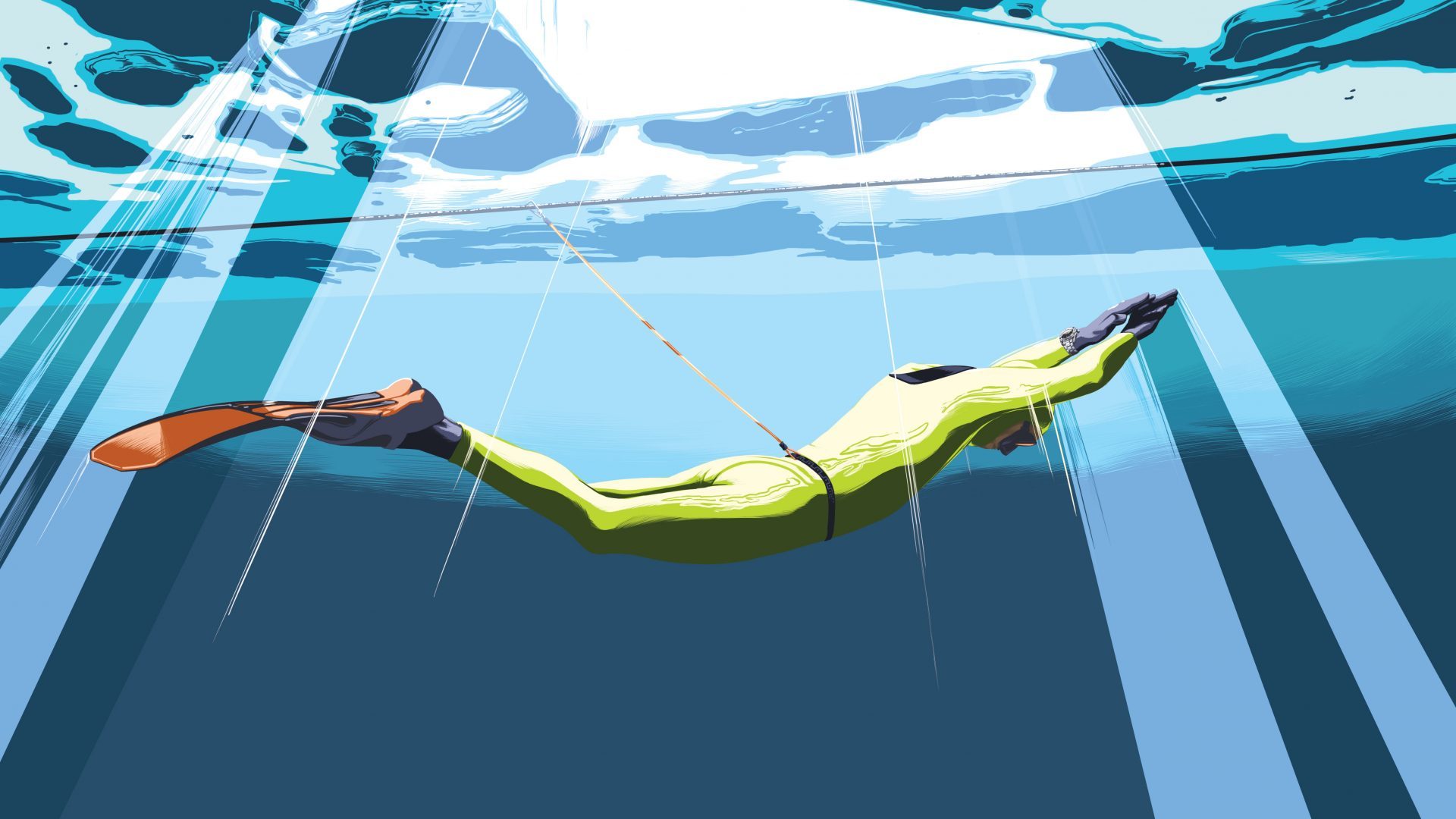 The Edge is a series of conversations with extraordinary people operating at the edge of possibility. It's about the thin line between taking part and tipping into victory; it's about what gives us our edge, and what we can do to go beyond it.
Our guest this time is the inspiring and erudite Arthur Guérin-Boëri.
As a child the Nice-born Guérin-Boëri spent family holidays underwater 'playing with the fishes', and the peace of mind he experienced there later inspired a dedication to expanding his mental resilience and overcoming physical challenges – in the most hostile environments imaginable.
After committing himself to freediving in 2012, he won his first world championship title and simultaneously set his first world record just one year later. He is now one of the most successful freedivers in the world, with 6 world records and 5 world titles. He holds the record for the longest under-ice swim with a single breath – a record he smashed in March 2021 in Lake Sonnen in Finland, by swimming 120 meters. Outside of freediving Guérin-Boëri is involved with Longitude 181, an association that fights for the protection of the oceans.
We spoke to Guérin-Boëri as he prepared for his next 'personal challenge' – another record for dynamic freediving, which he hopes to break in Canada in 2022. In this enlightening exchange he spoke about mental resilience, his intense training routine, and why the main tool a freediver needs is a watch.
Listen to the full conversation by searching for 'The Edge TAG Heuer' wherever you get your podcasts:
And also on:
Our aim? To be the monthly source of the fuel you need to leave your limits in the dust.
ATTENTION: ONLY HAVE A MINUTE?
Here are a few snippets to put you on the starting line and get the engines revving. Jump right in! But don't forget to subscribe to our podcast so you can listen to the full, unfiltered episode later.
THE BIG BLUE
It's a bit of a cliché to say this, but I saw the movie The Big Blue, and it had a big impact on me. The feeling described in the movie when the main character dives into the water, very poetic, detached from reality and his thoughts – this is exactly how I felt underwater. So when I saw the movie I thought, perhaps this is something I should get involved in more seriously. This was when I was only 10, or 12 – but it stayed in my head, throughout my teenage years.
AN EXPLODING SPORT
I was on the internet trying to find a swimming coach, and suddenly I said to myself – I love freediving. Is there any way to do it in a club, with professional coaches? I thought I would be the only dumb guy searching for it, but when I typed 'Freediving Club Paris', I realised that it was a sport that was exploding.
BODY AND MIND
It's a sport that a lot of people are begging for. People are always looking for yoga, tai chi, meditation – freediving has become one of these activities. Everybody has read in a magazine that it's good for body and mind. They've tried yoga, they've tried meditation, and they're bored. They want to try something new. It's a very trendy sport in big cities in France now. There isn't a single swimming pool in Paris without a freediving club.
ETERNAL QUEST
People are on this eternal quest for well-being all the time, especially in society now, where everything's very aggressive, everything is very competitive. People are being asked to perform all the time, in their personal life, their professional lives – people have an increasing need and a desire to search for well-being. I think that's why these kinds of sports are developing so much.
BREATHING ENVY
The kind of mental tweaks you have to master when you hold your breath for that long directly impact the way you deal with stress, the way you deal with adversity, your resilience, your self-confidence – it's a very unique mental training. You're trying to overcome a very primitive survival reflex – the 'breathing envy' [the urge to breathe]. As a mental process, it affects your everyday life very, very fast when you start diving, even at low levels.
FREEDIVING SAVED ME
Before freediving I was living a very urban, everyday life that I was very uncomfortable with in Paris. I was very stressed, I was anxious, worried. This is what pushed me to get back into sport. Freediving saved me, that's for sure.
ENTIRELY FOCUSED
[On what it feels like underwater] The compression, the blue, the darkness, the cold – you are entirely focused on yourself and your sensations, living in the present moment, totally away from the surface and your surface life, and all that comes with it. I feel very well down there.
NOTHING CAN REACH ME
[On his preparation before a dive] I do two hours of preparation. I go through a lot of stretching, a lot of visualisation. I visualise my performance – I 'watch' myself under the ice at the exact place where I will be swimming. I do it like several times, to prepare my mind for what's about to happen. I do a lot of breath-holding exercises too, and when I've finished I'm in a hypnotic state of mind. I'm so focused that nothing can reach me. No fear, no apprehension, no stress. I'm just very focused on my goal.
HEARING YOUR HEARTBEAT
Under the ice in these frozen lakes, it's very, very strange. It's one of the only places on earth where I've experienced that kind of silence. It's scary, a little bit. There isn't a single sound, so you can hear everything. Your movements in the water, the water sliding on your skin, your heartbeat. Everything.
PERSONAL CHALLENGES
Diving is integrated into my life. The career is something I try to develop around the activity. The career includes all the different projects besides the world record attempts, like the documentary I'm shooting for TAG Heuer, the conferences, the media – all these things are for the career. The world record attempts are more like personal challenges.
IT'S ABOUT TIME
Holding your breath is about time. A watch is the main tool that a freediver needs. Freediving is about time passing. It's about depth, as well, and distance – but basically, it's about time.