Podcast

Podcast, Episode 9: Premier Staying Power with Manchester United
6 min
Manchester United players Juan Mata, Jesse Lingard, and Bruno Frenandes discuss how to cope with Premier League-level pressure, how a bit of rivalry can improve your game, and what winning means to them.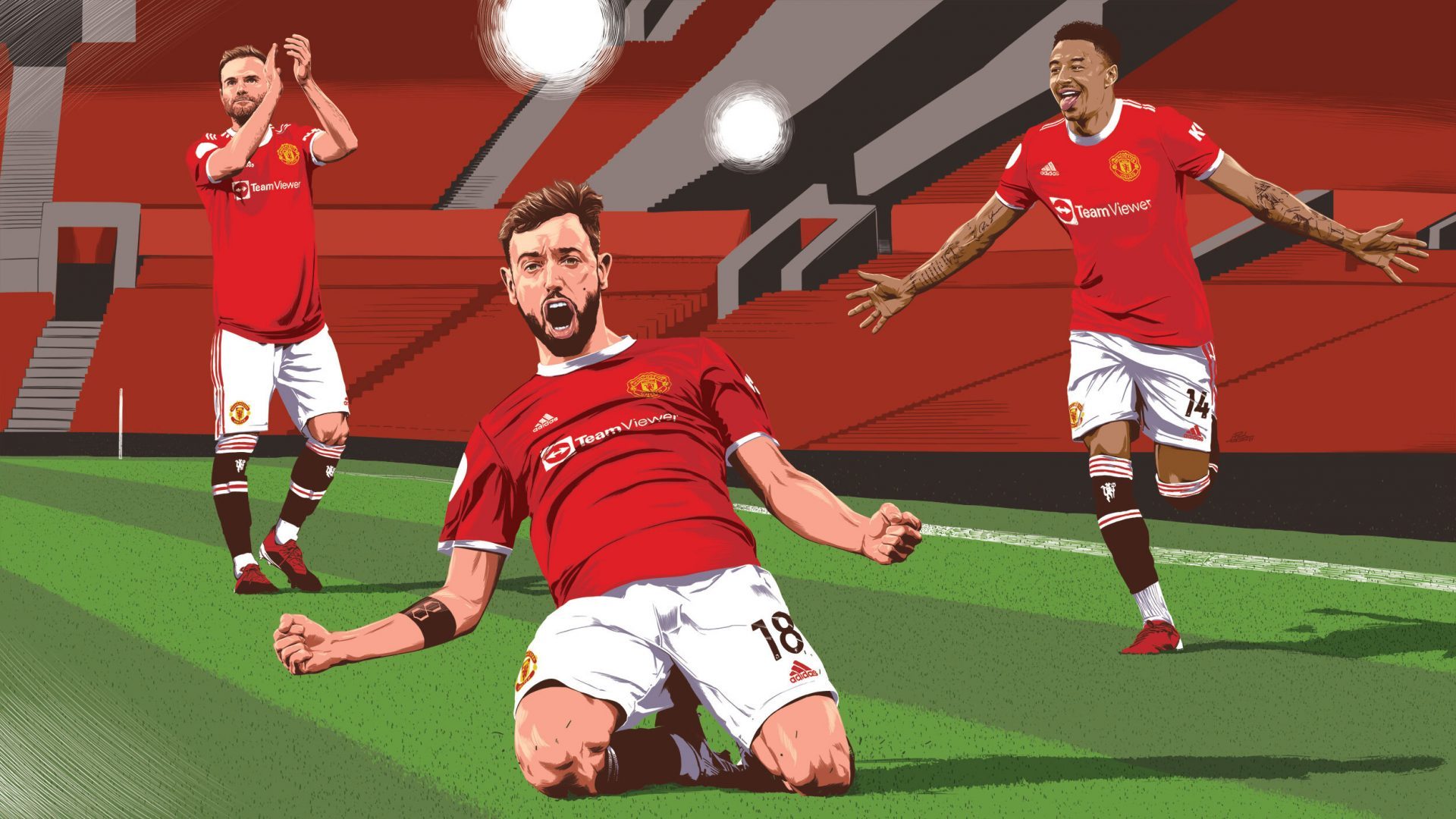 The Edge is a series of conversations with extraordinary people operating at the edge of possibility. It's about the thin line between taking part and tipping into victory; it's about what gives us our edge, and what we can do to go beyond it.
Our guests this time are Manchester United midfielders Juan Mata, Jesse Lingard, and Bruno Fernandes, three footballers who've proved their true mettle with England's most successful team and have helped take Manchester United to number 2 in the Premier League.
In the full episode the players talk to our host Teo Van Den Broeke, Style Director at British GQ, about how they cope with the pressure of being quite literally at the top of their game, what inspired their passion for the game, the people they trust to give it to them straight, and why a bit of healthy competition can keep you on your toes. In between, we touch on how the discussion around mental health in sports has changed in recent years, and why a bit of quiet amidst the 'noise' can make all the difference. 
Here are a few snippets to put you on the starting line and get the engines revving. Jump right in! But don't forget to subscribe to our podcast so you can listen to the full, unfiltered episode later.
Listen to the full conversation by searching for 'The Edge TAG Heuer' wherever you get your podcasts:
And also on:
Our aim? To be the monthly source of the fuel you need to leave your limits in the dust.
If you can't take the heat...
I'm a person who honestly likes pressure. I work better under pressure… it's something I understand… many, many big players have told me, "build pressure around you". I don't like to have people around me always saying, "oh, you're the best"; I want people saying that what I'm doing is wrong! I like always having something to do better – so I can push myself to be a better version of myself. 
I know my wife, my dad, my brother and I have probably four or five friends who are the ones I like to talk to, because they always push me.  – Bruno Fernandes
There's no 'I' in 'Team'
Everyone's hungry to play. We push each other and, when you're on a bench, you're always ready to make an impact. And when you start, you want to start sharp. I feel like there's a real togetherness with the squad, there's a lot of confidence going about. So, we like to push each other in training to get the best out of each other.   – Jesse Lingard
Dust yourself off
…It's a cliche, but it's true : it doesn't matter how many times you fall, it's about how many times you can stand up and come back to do what you do best, which is in our case, play football. So it is not about not failing. It's about how you keep going.  – Juan Mata
Family pride
My grandad was the first person who properly got me into football. He used to drive me, when I was on trial at different clubs – he's always been there. He still gets on my case, even to this day, but he's always been super proud.  It's been a long road from where I was to get where we are now. So he's really happy seeing his grandson play football. – Jesse Lingard
The Edge Podcast host, Teo Van Den Broeke, and Jesse Lingard
Opening up
I think it's very important for every football player to be able to be open, to express how we feel – it can be with someone in the club, with someone in your family, with someone that you trust – to express when you don't feel good, because we don't feel good sometimes. Some people think that because we are football players and we live a privileged life, we don't have our down moments, and we do. We all have personal matters. It's very important to be as stable as you can in your mindset. And that's not easy.   – Juan Mata
Spicing things up
The competition between us is really important, because if you don't have this kind of competition on the inside, it's hard to push yourself – you can't have the mentality you need. You might push yourself to the maximum, but when someone gives you that extra bit of spiciness… you'll get something more. – Bruno Fernandes
Time to push pause
I just try to get away from the noise. We know when we have played well or badly, so you don't need to read about how badly you have played. In a way, it's just hurting yourself even more. So I think you need to find a routine in which you are a little further from all this noise, and keep doing the things [that work], and keep believing that sooner or later your work is going to come through. Sometimes the simplest advice is the best, which is: try to get away from the noise.   – Juan Mata
Starting the conversation
Definitely a bit more can be said. You know, when I spoke out, it was like a weight off my shoulders – and I've seen many more players that have come out and spoken about [mental health]. So I think it is an area that can be touched on a little bit more, and many more people will eventually start talking about [the fact that] football is a lot of pressure. You can be dealing with things off the pitch and taking it onto the pitch.  – Jesse Lingard
Winning is (almost) everything
Of course, winning is key. But the way you win, the process in which you try to win, the tools that you use for that victory, for me matter, too. So when you win, feeling proud of what you have done, the way you've played, the way you entertain fans, the way your players have behaved and all that, I think it gives you a deeper meaning of victory than only winning by chance.   – Juan Mata